How-to use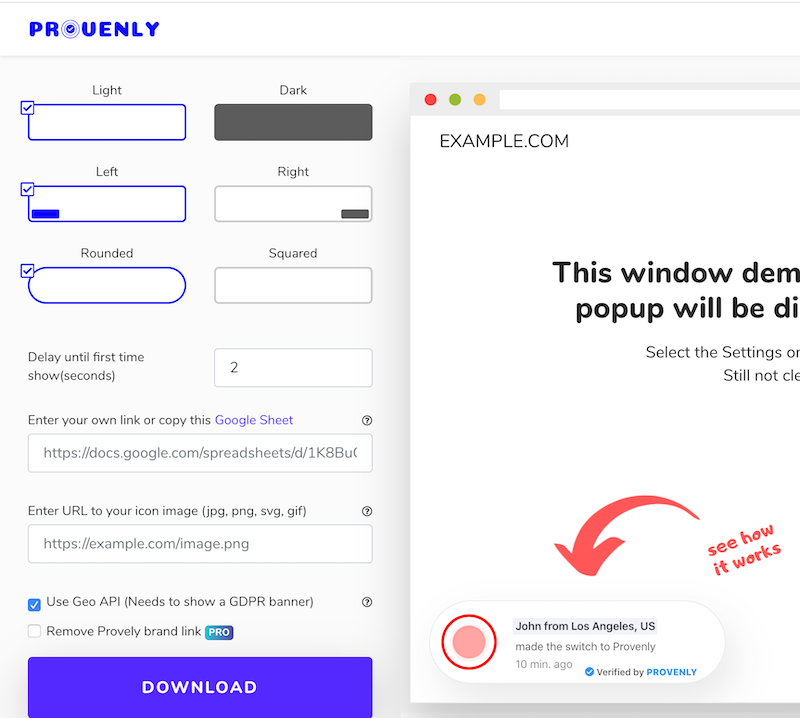 Change Popup Styles
Three basic customizations are available: background color, position, border radius. To select, click on the preferred options, the widget style will be generated automatically with new parameters. Now downloadable plugin will be available with new style options.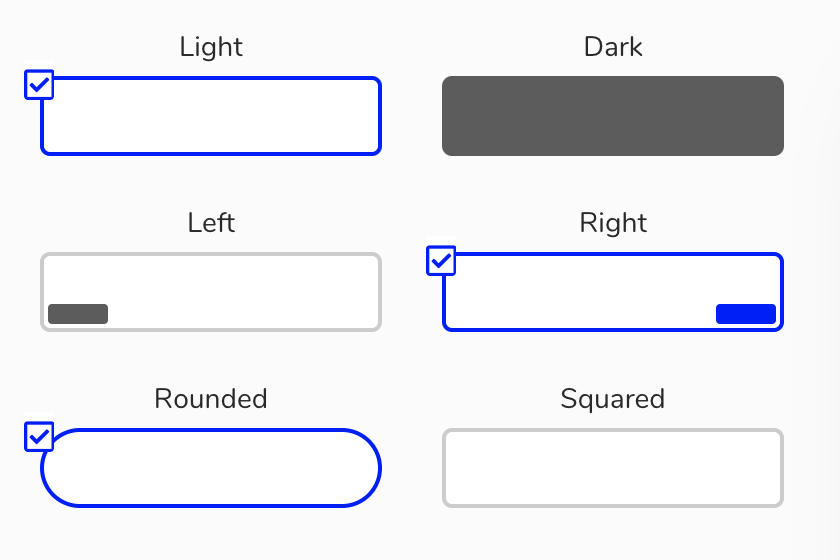 Delay Before First Time Show
You can adjust the delay the first time the popup will be shown. Enter the value in seconds or use the up and down arrows to set the delay. The minimum setting is one second.

Google Sheet Data
Copy this Google Sheet and Save as yours in your Google Drive account. This allows you to display messages about recent activities (sales, downloads, signup's , etc., from Past Data.
You can export data from almost any sales service and add to the table or add manualy. The only rule is to observe the name of the table cells as in ours.
Also, be careful not to add any private data, as this table is publicly available and anyone can read it.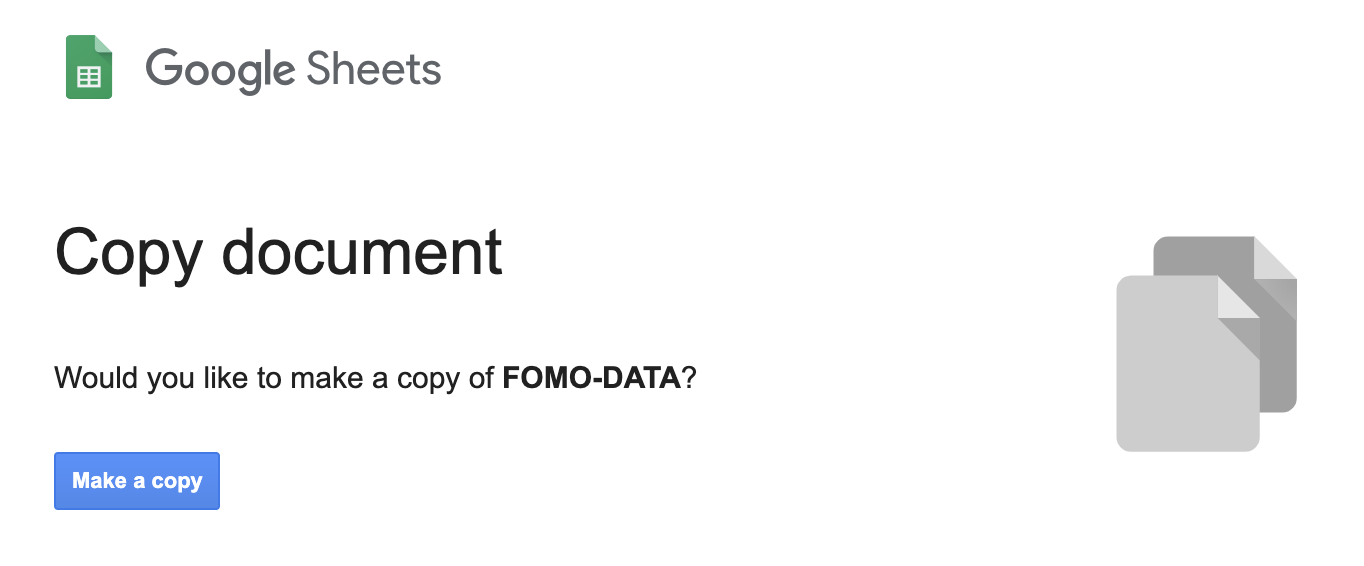 1) Open Your Sheet -> File -> Publish to Web.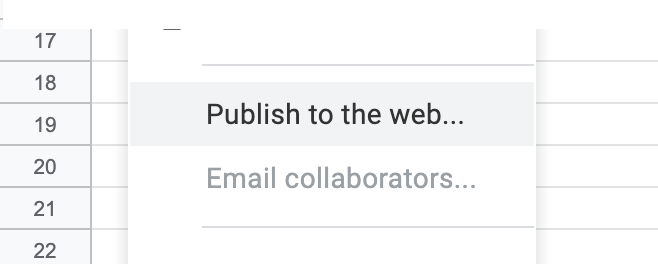 2) Your Sheet -> File -> Share -> Get shareable link.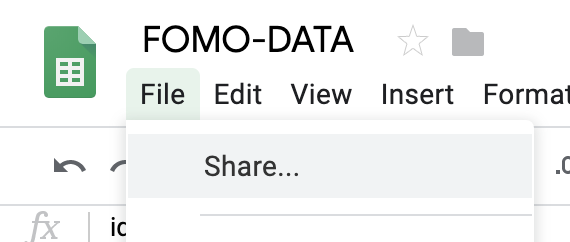 Insert link to the input -> Done.

If your link configured correctly you will see note: Looks Good

If you see a message that the link is invalid: " Please provide a valid link. " - check again that you did everything correctly according to the instructions above. Follow all the instructions step by step.
Easily Fill Google Sheet Data
NOTE: Don't rename or replace columns title in your copy of Google Sheet! This may cause an error in the plugin.
Fill in all columns with your data. Each column corresponds to a text line in the widget. For automation of filling data sees section - Automation(coming soon).

Name:

your customer name

From:

where is your client from

Action:

what exactly your client did

Product:

your Product Name

Time:

when the action was committed

Link:

clickable link to your product page or checkout
Icon Image
Insert a link to your image icon into the input. In the next update this will also added to the Google Sheets data columns.

Valid formats: *.jpg, *.png, *.svg, *.gif. If the error occured, check whether your picture is available for embed to another doamin as not all servers allow embedding to another server. Also if the website where you will place your popup script works on https:// , your image should also have a link starting from https://.
Geo API
This function uses the location of the user and shows a notification that someone has committed an action near him. This can be interpreted as pressure and Black Hat Marketing. So you should show a notification about this to the user. Use with caution in any case, but the effect can be great.

Although by default, this feature is enabled, you can Disable it by removing the checkbox selection. Keep in mind: using this function, you must comply with the General Data Protection Regulation (GDRP). Our License does not extend responsibility for the use of this function to third parties!
Remove brand link
Click to checkbox and Upgrate to PRO account.

Install widgety code to your website
After copying widget code you need to install it to your website. To do this you add script code before the close tag in the header code of your website.
WordPress users may use this plugin: Insert Headers and Footers Plugin.
After copying widget code you need to install it to your website. To do this you add script code before the close tag in the header code of your website.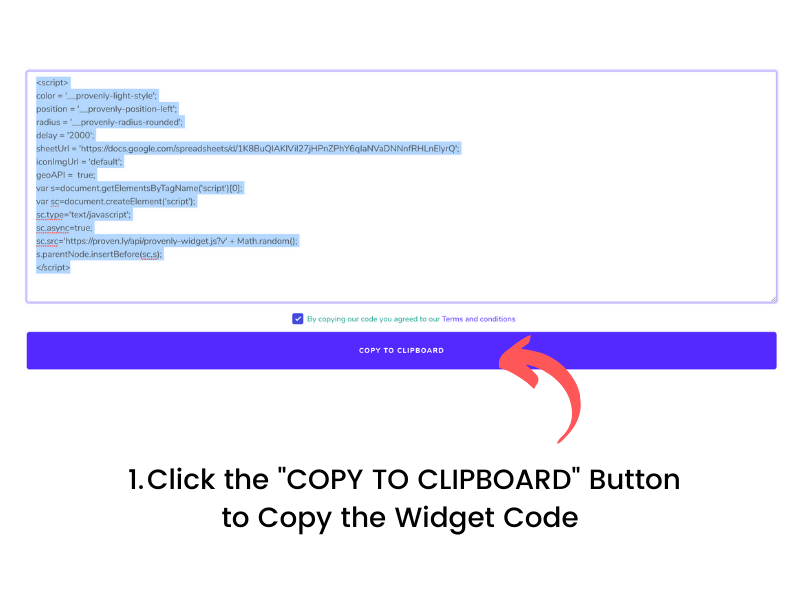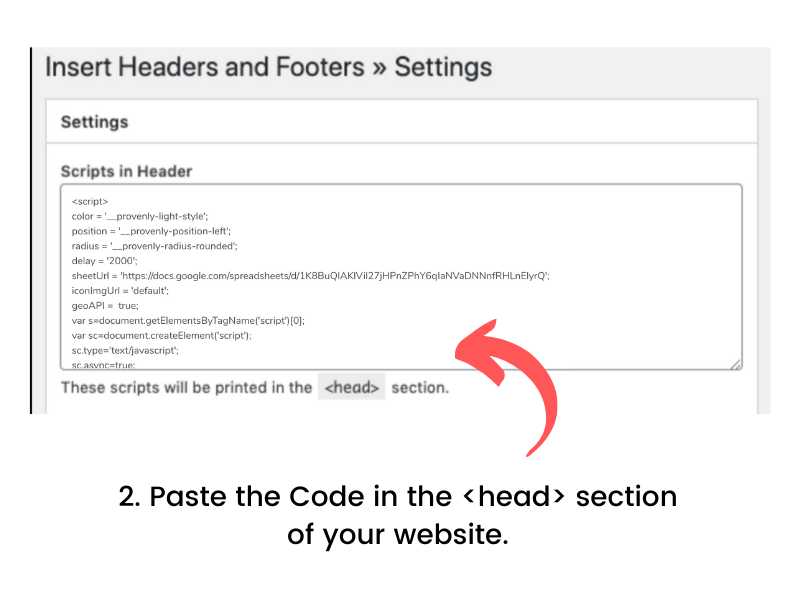 How to Track Widget Link Clicks w/ Simple | Analytics | UTM Source builder | Bit.ly Link | Rebrand.io | test widgets + Google Sheets template
How to Track Widget Link Clicks w/ Simple | Analytics | UTM Source builder | Bit.ly Link | Rebrand.io | test widgets + Google Sheets template​ >> Read more >>